Anime Expo Lite Livestream Event Draws Over 500,000 Views From Around the World to Celebrate Japanese Pop Culture
The Society for the Promotion of Japanese Animation's First-Ever Virtual Event Held July 3 & 4
Santa Ana, Calif. (July 14, 2020) – Although Anime Expo could not take over the Los Angeles Convention Center as it usually does at this time every year, that didn't stop hundreds of thousands of people from coming together on July 4th weekend and doing what they love: celebrating Japanese pop culture. Through free livestream programming on YouTube and Twitch, The Society for the Promotion of Japanese Animation (SPJA) delivered Anime Expo Lite to enthusiastic fans from 71 countries.  From Norway and Trinidad to Japan and France, viewers spanned the globe, all coming together as one community with a shared passion for all things anime.
During the two-day event fans were treated to a wide variety of content from industry partners such as Square Enix, Warner Bros Japan, Bushiroad, Crunchyroll, Pony Canyon, and VIZ Media. A cultural track showcasing Japanese culture through art, fashion, flower arrangement, food, dance, and language added to the immersive experience.
"We of course would have much rather been celebrating in-person but Anime Expo Lite was a fantastic alternative for our many faithful attendees, and for the many anime fans who normally aren't able to get to our physical event. Through virtual experiences we were still able to share with them a piece of Anime Expo no matter where they were in the world," said Ray Chiang, CEO of the Society for the Promotion of Japanese Animation. "We are honored that so many of our industry partners participated; the programming was incredible!"
One of the most anticipated programs of the weekend was The World Ends With You – The Animation- Special Panel which featured behind-the-scenes footage of the development process and revealed the first trailer for the anime series adaptation! Fans were psyched to learn that the original director, producer, character designer, composer, and voice cast are involved in the anime project and see them discuss the evolution from modern action RPG masterpiece to television series.
Adding to the weekend's excitement, 14-year-old Hinano Takashima from Japan was selected after an exciting audition campaign to sing the theme song for the upcoming animated film, DEEMO THE MOVIE . Her debut release of the anime's theme song will be written by Yuki Kajiura, a prolific Japanese composer, arranger, songwriter, and record producer who has been active in the fields of anime series, cinemas, TV commercials, games, and musicals.
As a finale to the two-day event, viewers were treated to a concert like no other! Japanese pop, operatic-like songs, rock n'roll and everything in between brought down the virtual house with Anime Expo Lite x LisAni! LIVE L.A. This was a special edition of "LisAni! LIVE," a music festival, which has been held in Japan annually since 2010. Created in association with anime music media outlet LisAni!, Anime Expo Lite x LisAni!LIVE L.A.l featured amazing performances by ELISA, GRANRODEO, KOTOKO, Maaya Uchida, Yoko Takahashi, and Yoshino Nanjo.
For 29 years, AX has been the preeminent event featuring the newest anime films, television series, fashion, video games, manga, dance, music concerts, exhibitors, and exclusive convention merchandise, all combined to deliver unforgettable experiences to fans of anime and Japanese pop culture. Anime Expo will return to the Los Angeles Convention Center on July 2-5, 2021 to celebrate its 30th anniversary.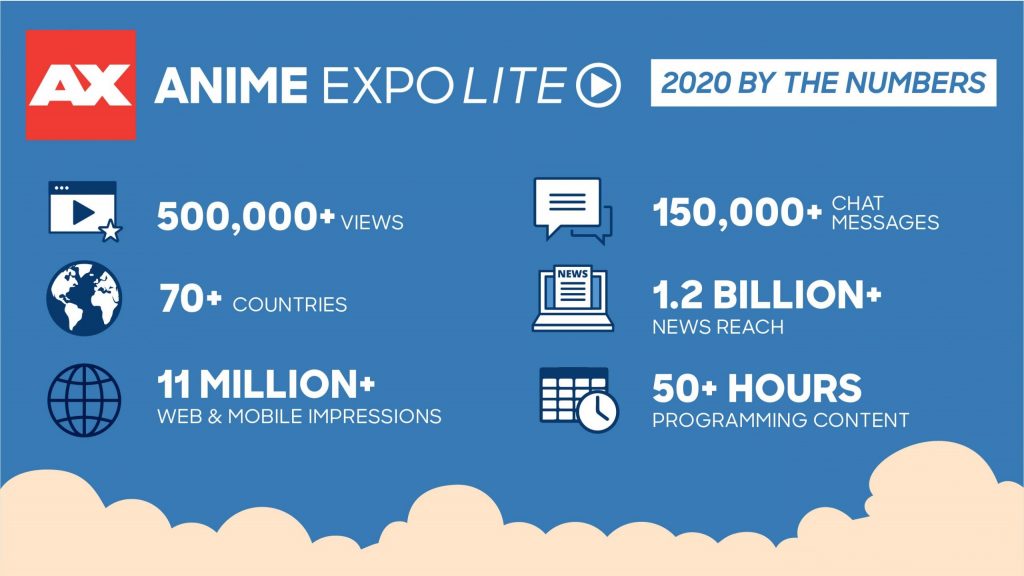 About SPJA
SPJA is a non-profit organization dedicated to popularize and educate the American public about Japanese entertainment and pop culture, as well as provide a forum to facilitate communication between professionals and fans. For more information, please visit www.spja.org.
About Anime Expo
Anime Expo (AX) brings together fans and industry from Japan, the US, and all over the world for the largest celebration of Japanese pop culture in North America. Taking place every year since 1992, Anime Expo features the best in Japanese entertainment, music, fashion, and video games. For more information, visit www.anime-expo.org.
###
Media Contacts: